2015
Joshua Vyverman
Matt,
We paid good money to hunt with you guys. Caleb was our guide. This was my first time every hunting snow geese and I cannot express my gratitude for what I experienced this weekend. Caleb is a very respectable young man willing to do anything to make his clients happy. Our group had an experience of a lifetime and killing that many birds was just a bonus. I understand the sport and Caleb made this trip 200% more than I thought it was going to be! Thank you! We will be returning! Good luck in Mound City and thanks for a memory I'll remember forever.
---
James
Matt,
Wanted to thank you and Shaun for a great trip. We all had a blast despite the weather. We're already planning to return next year and you'll be hearing from us soon.
Happy hunting
2014
Chris F. - Saint Paul, MN
Matt,
I wanted to write and thank you once again for your excellent guide service. I've been hunting waterfowl for 20+ years but always over water. I always wanted to try field hunting for Canada geese but really didn't know where to start. I knew I didn't have the time to hassle with scouting, gaining permission to hunt private land or the resources to purchase the expensive field decoys needed besides learning how to effectively use a call. I decided to give your service a try, you did not disappoint!
My brother & I signed up for your day and a half hunt. It was a busy weekend and we started out in a field that had been previously producing but happened to be slow that morning. One of your other fields was where the geese wanted to be on that morning and to my surprise our guides said we were quickly packing it up and heading to the active field. I was impressed, he could of just let us sit there hoping & waiting for some action. It was apparent our guides wanted us to be successful, get our geese & have some fun. Well we got our geese and were privileged to be part of a group that downed 30 geese that day! The following morning was no different, the heated pits kept us comfortable, the large decoy spread combined with excellent calling had the birds committed feet down and in our faces and the group ended up with another 20+ geese by 11:00am. WOW! What a fun weekend, I was hooked. It certainly ranks as one of the more memorable waterfowl hunts I have had!
I have hunted with you twice since that weekend and you have consistently proved to me that you are committed to providing a top notch guide service. I highly recommend you to anyone wanting a carefree, exciting, birds in your face, world class goose hunt. Thanks Top Gun Guide Service!
---
Murral Stark - Buck Gartner Calls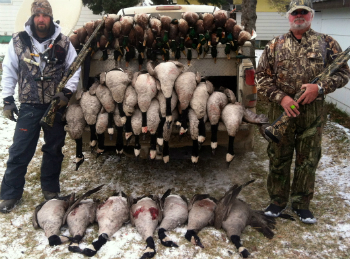 Matt,
Our hunt was very enjoyable. You guys worked really hard to get the geese to where they needed to be. I really admire the amount of effort you guys put into the hunt and making everyone's experience enjoyable. We put the smack down on 24 birds on Sunday and got some great video footage. I hope to be back next year and years to come.
Good Hunting
---
Jack White
Hey Matt, I've been telling everyone what a good time we had last spring. I've got a field full of shooters for next spring.
---
Ernie and Lanny
Matt,
I am not sure if you remember us or not, we hunted the opening four days of 2005 in Mo. We had a terrific time and would like to hunt with you again. Maryland is within driving distance for us. Look forward to hearing from you.
---
Derek
Matt,
I just wanted to thank you and your guides for the great hunt last month and for not increasing my fee once you discovered I was a former Jaguar. It was awesome and the guides all did a great job. Next year, I would like to bring my brother from Michigan and a couple of other guys from Texas. We will be booking no less than a three day hunt.
Thanks again
---
Dick Gary
Matt:
Gary Vergin and I enjoyed our hunt in the Huron, SD area. We found "Top-Gun" is Top-Notch as far as we are concerned! You work hard for your clients. Without hesitation, we will recommend you to our friends and most likely be repeat customers this fall in Rochester, MN.
A few words about our guide Spike:
He has a passion for the work
He keeps the hunt organized and disciplined
He knows what he is doing
He is fun to hunt with and most important of all, he is a decent person
While hunting, Spike talked about hunting in Wyoming and I promised I would send him the URL for a map package of the state. Here it is www.maptrails.com. I have hunted Wyoming every year for the past 26 years and next to my rifle it is the most valuable tool I have.
Thanks again for a good time
---
Dick
Matt,
Thank you for your reply, especially since your days must now be very long. I have arranged to go with one of your competitors. When I first spoke with him he was not able to accommodate me. I asked for the name of another outfitter that was good and reliable. He told me there weren't many he would recommend but Matt Kostka, at Top Gun, was a very good outfitter. Due to a variety of circumstances, it became possible for him to add my party of two. I appreciate your response. If I snow goose hunt again in 2008, I will see if I can arrange to hunt with you.
Thanks again and I hope your season is going well.
---
Al
Matt,
Want to let you guys know we had a great time, and even though we didn't have the 100 bird day shoot everyone is looking for, we have found the outfitter that we plan on continuing to use to get that 100 bird day. Josh was in amazement at the number of birds that he was watching and shooting at, and with his love for waterfowl hunting, he might have found something to try after he graduates next Jan., Jerry made him feel like one of the guys and not a 17 year old hunting with his dad, on the drive home he keep talking about helping out next spring if you guys are looking for a young helper. Jerry took good care of us and will do Top Gun good as a young guide.
Thanks Again
---
Bill
Matt and Mark,
Thanks for a great day of hunting (12/20/2006. We all had a good time and even though the daily bag was less than we hoped, we shot what came in and we certainly saw plenty of geese. Now if you guys could only control the weather!!!! Please put me on your mailing list as the spring trips sound like something I would certainly consider.
---
Alicia
Matt & John-
Thank you so much for a great trip south! I had a wonderful time and hopefully you'll let me come back and hunt with you guys again. I've also attached the pictures- let me know if they come through okay.
Thanks again & keep in touch!
---
Jeff Kratochvil
Hi Guys,
I hope your busy killing snow geese!!!! I'm sure you remember me I'm Jeff with the group ( 12 ) that came down from the Milwaukee area. I'm the fun loving bald headed guy. The reason I'm writing is I gave a neck collared bird to Jarrad, ( black collar ). I was wondering if you ever found out where the bird came from and how old it was???? I'm curious as I've shot banded Canada's before.
Hey also, WE ARE COMING BACK!!!!!! I want to bring my 2 sons with also. How many of us can you accommodate????? We are looking at the first Sat, Sun Mon in march for the 2 1/2 day package. I had a great time with you guys and can't keep the smile off my face every time I think about our hunt down there. I hope we were of some amusement to you also. If you ever need references, I'll be glad to help you out!!!
Regards